NANG LEONG PLAYGROUND
An underused public space in Noeng Loeng, Bangkok, has been refreshed and energized with added greenery and new park furniture. The project is the result of a two month long intensive design-build program, engaging with the community and local students to develop a proposal that would bring life back to the site. The project included both the design of physical improvements - added greenery, seating and play space - and curation of the launch event.

Each corner houses one of the new furniture components: a large L-shaped double-sided bench, a play 'pyramid' with swing and climbing surfaces, notice board, and a two tiered stand / stage. All new equipment was designed and constructed using scrap materials donated by Ford Motor Company Thailand.

EVENT
---
The launch, "Nang Loeng: Join Our Craft", welcomed local venders and artisans into the space to share their techniques and cooking skills, while activating the new and improved park environment. The event was a celebration of the history and culture of the local Nang Loeng community. The event encouraged visitors to engage with various participatory activities — food, dance, games and film — which reflect on Nang Loeng's past, present, and future. The event commemorated the official opening of the Nang Loeng park.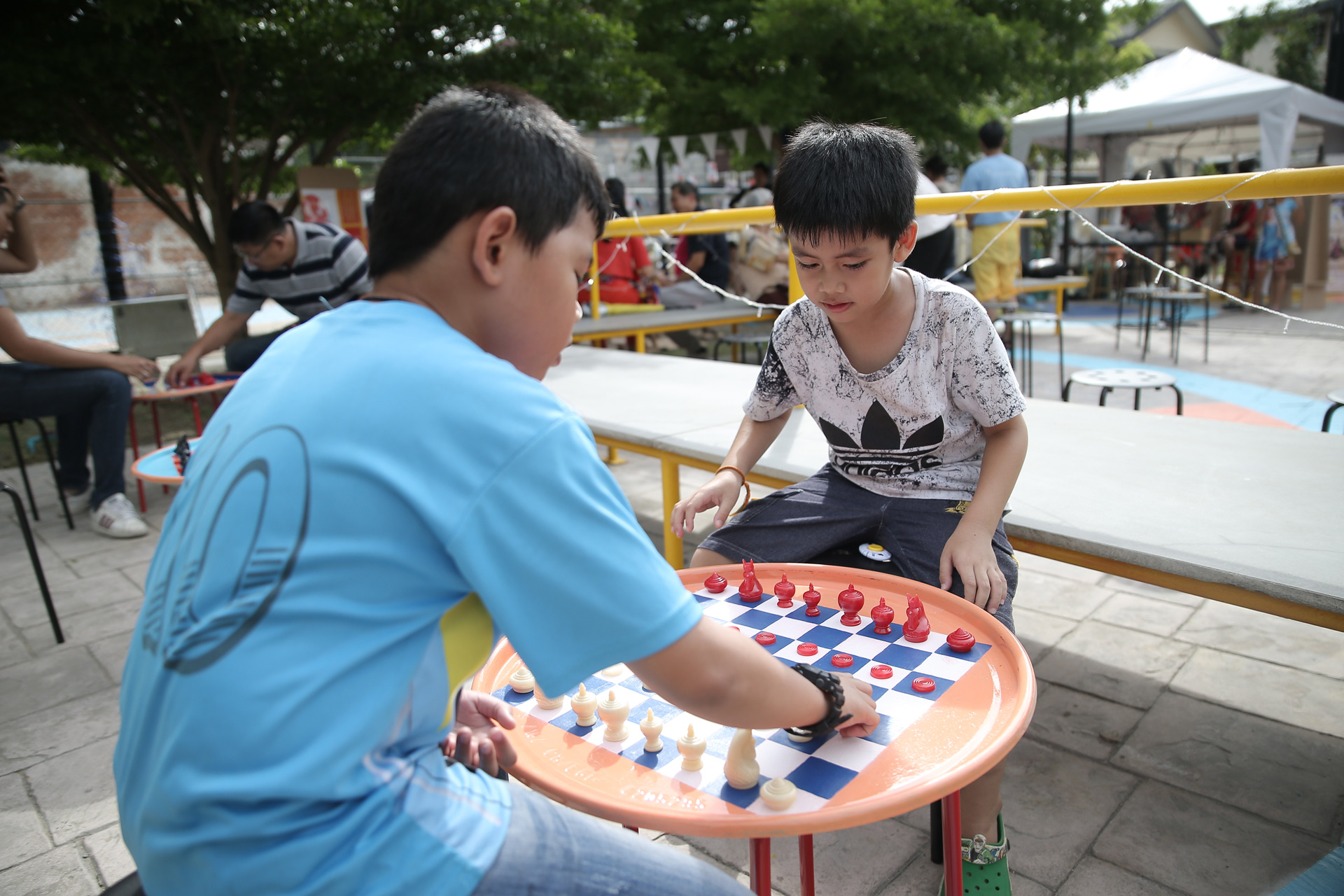 DESIGNERS
Gian Maria Socci
Rebecca van Beeck
Danny Wills

COLLABORATORS
Nang Loeng Community
Promprop District Office
Royal Crown Property Bureau
Ford Resource and Engagement Center
Ford Motor Company
Urban Studies Lab (USL)
Scholars of Sustenance (SOS)
Lighting & Equipment PLC
Bangkok 1899
STUDENTS
Thunda Rerkpaisan
Panas Saengvanich
Chommalee Durongpisitkul
Thanjira Vimonanupong
Patr Vacharanukulkiet
Ramita Yibmontasiri
Bhuvarin Thaveetermsakul
Pattharaprapa Thongprasert
Takrit Mekpanuwat

Supatsorn Boontumma
Punnathorn Phuwichit
Nithikorn Seangkeaw
Teeracharoenchai
Pakjira Itthisang
Panchaya Sonkom
Sakdithat Pitakkotchakorn
Boontita Boonsusakul
Tossaporn Sarochsuwan
Chutikarn Kaewudom
Palida Emwattana
Pasinee Kerdpongvanich
Chanarop
Sukhumcharoenchit
Manachanok Tantraporn
Phudtripart Bhudthonamochai
Prao Sirisaksopit
Premmika Taechavarangkul
Pollakrit Naimee
Tanyadhorn Dumrongkijkarn
Thanapond Namnanthasith
COPYRIGHT 2019
SPACE SAL00N

PHOTOS: Ford Motor Company