BAN BAT GATE
The Ban Bat community in Bangkok is one of the oldest and best known urban OTOP in the capital (One Tambon - province - One Product). For more than a century residents have been producing monk's bowls following the methods inherited from the Buddhist tradition: the entire process is carried out by hand and the craft is transmitted through generations. As cheaper, industrial bowls from China are overtaking the everyday market, Ban Bat's residents are struggling to reinvent their economy, catering to local and foreign tourism in order to preserve their traditions and identity while upgrading their precarious living conditions.

This pilot project creates a new entrance gate to the main Soi. This public space provides shade, greenery and simple urban furniture, a space of rest for locals and visitors alike. A large mural, as well as detailed panels, introduce visitors to the history of the community and the process of bat-making while facilitating their navigation with the aid of clear maps and legends. The main structure is inspired by the metal-working techniques of the local artisans which allowed for their direct involvement in the construction process and ensure ease of maintenance with the community's own resources.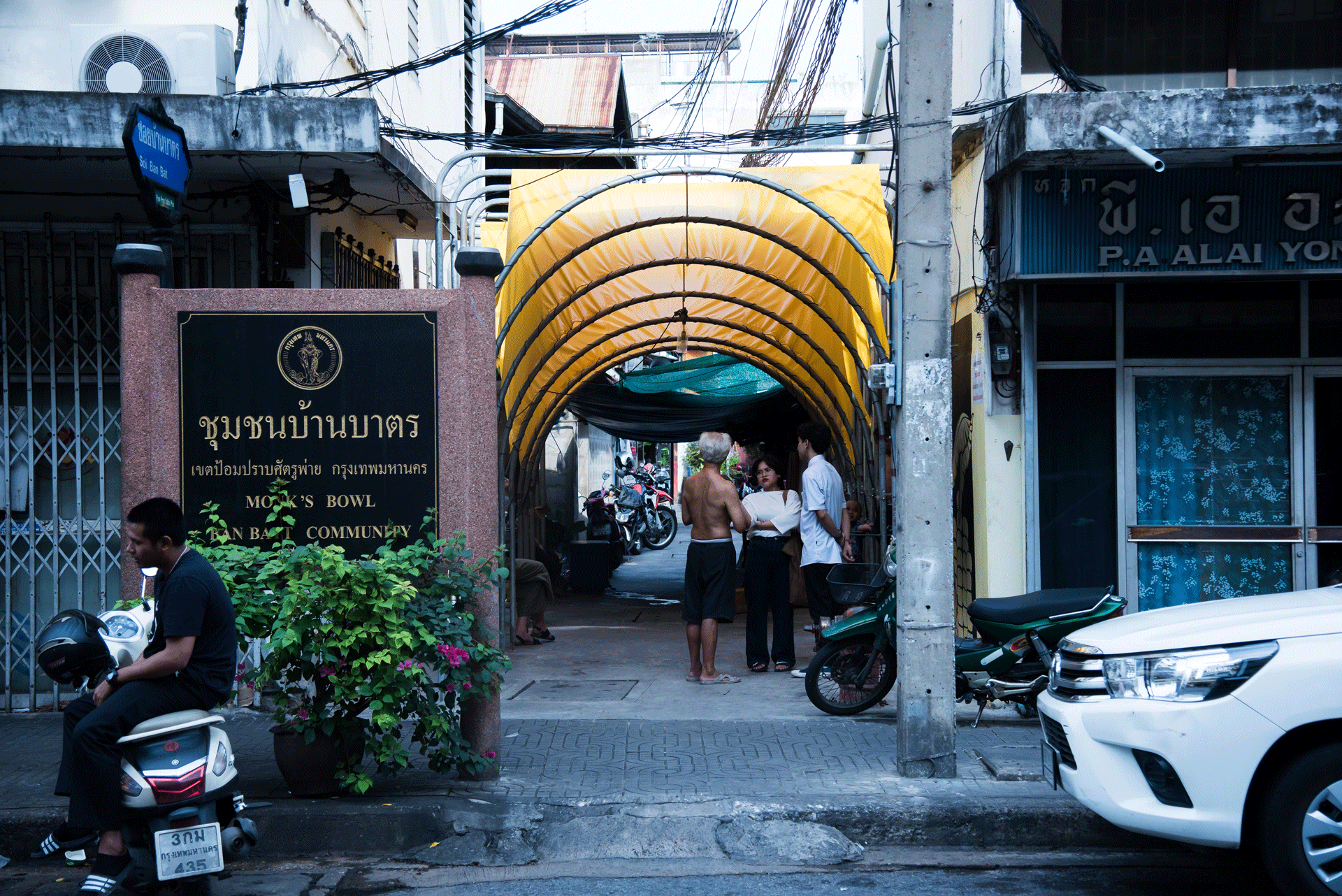 PROCESS
---
As part of the Design Construction for Community Summer program of INDA, the International Program in Design and Architecture of Chulalongkorn University, we have involved the local community in a four month-long process of analysis and participative design. Through various community workshops, together with locals, students and government experts, we have identified common threats and shared interests, resulting in the resolution to facilitate the engagement of tourists in exploring the neighborhood.

The project has been documented as part of the "Transitional School" exhibition organized and curated by Merve Bedir and Jason Hilgefort, displayed at the

Instanbul Biennale of Architecture "A School of Schools."

Self-sustenance, identity preservation and economic independence are the leading goals of this venture which is scheduled to continue with new projects in the near future with the close support and collaboration of Chulalongkorn University and The Crown Property Bureau, to foster new cultural activities within thecommunity such as a craft museum, art residencies and participative workshops.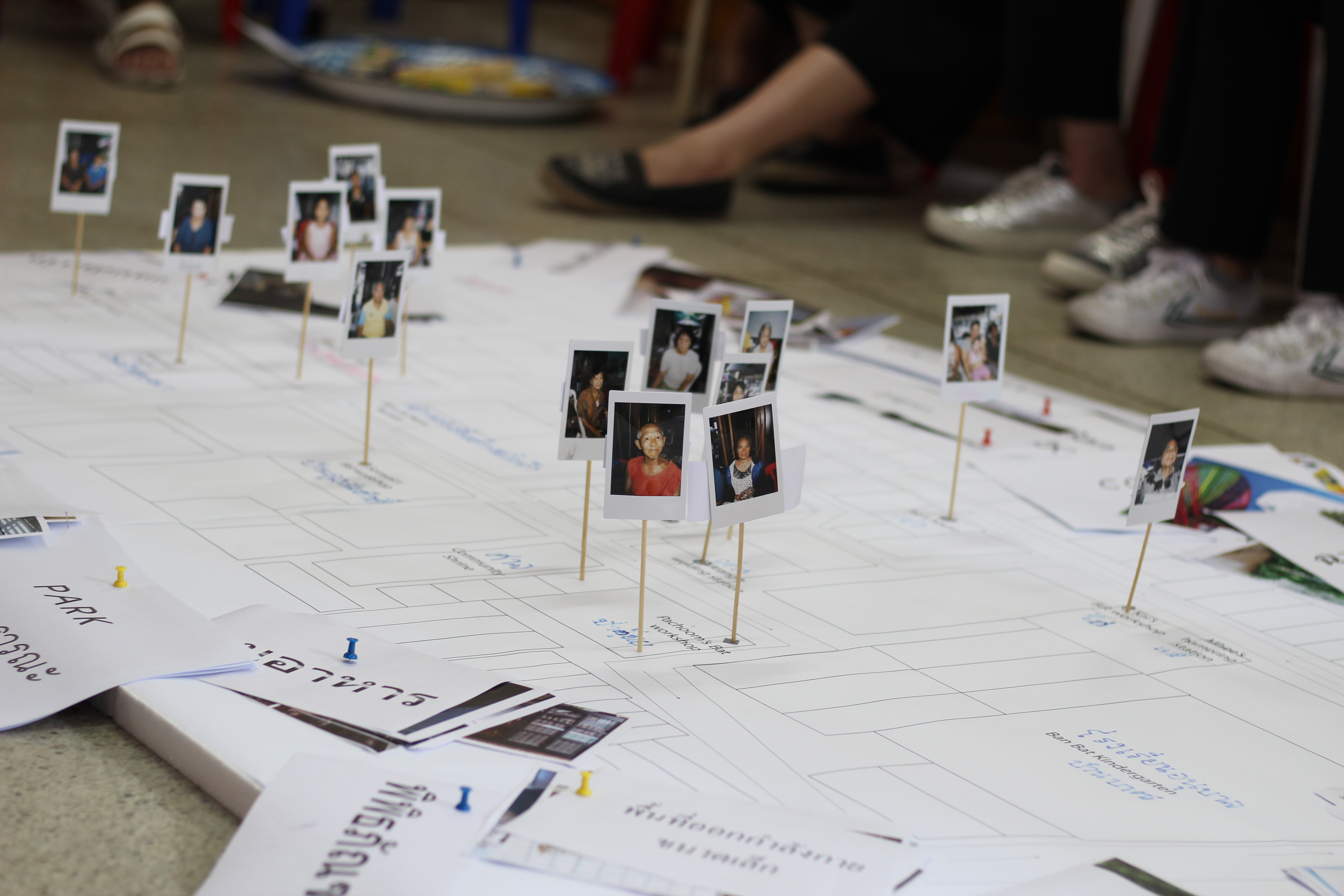 CURATORS


Gian Maria Socci
Rebecca van Beeck


TECHNICAL CONSULTANT
StudioMake
COMMUNITY WORKSHOP CONSULTANT
Witee Wisuthumporn
STUDENTS
STUDENTS
Yamin Kosittanakiat
Chularach Engchanil
Ranchana Rungwatanawong
Sakdipat Chitsawaengsrap
Lisa Kamolkornpannatat
Shwe Yi Nwe Oo
Sisilpa Srisukson
Atitep Rungkeeratikul
Santasak Apasuthirat
Natdanai Wareerinsiri
Chutimon Suetragulwong
Ishita Akther
Nathnicha Nimitmongkol
Nattha Dhamabutra
Panyanus Jansomwong
Palita Tungjaroen
Alena Limwattanayakorn
Panisa Kleosakul
Sarida Thanakarnjanasuth
Woraphan Jampachaisri
COPYRIGHT 2018
SPACE SAL00N

PHOTOS: Pollakrit Naimee